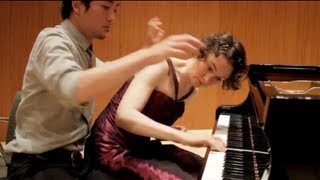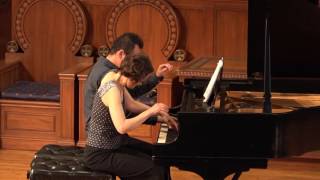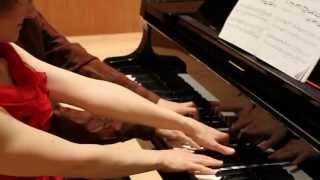 Event Categories:
Thursday, April 30, 2020, 2:00 PM
Eva-Maria Zimmerman, piano
Keisuke Nakagoshi, piano
Wellspring/Cori Terry and Dancers
Piano duet arrangements of Gustav Holst's The Planets and other contemporary works create a framework for a thoroughly contemporary, visually striking collaboration of music, dance, and light.
Festival tickets are available NOW for Gilmore Contributor Circle members of $100 or more! Click HERE to learn more or make a gift.
Genre
Uniquely Gilmore
Parking
Ramp, Street Parking
Duration
1.5 Hours
U. SISASK
"Intertwined Spirals" from The Spiral Symphony
G. HOLST
"Mars, the Bringer of War" from The Planets
U. SISASK
"The Peace of Rod-Spirals" from The Spiral Symphony
G. HOLST
"Mercury, the Winged Messenger" from The Planets
G. CRUMB
"Beta Cygni" from Celestial Mechanics
U. SISASK
"The Sleeping Beauty, Restless Spirals" from The Spiral Symphony
G. HOLST
"Jupiter, the Bringer of Jollity" from The Planets
G. CRUMB
"Alpha Centauri" from Celestial Mechanics
G. HOLST
"Uranus, the Magician" from The Planets
U. SISASK
"The Disorder of Spirals" from The Spiral Symphony
G. HOLST
"Venus, the Bringer of Peace" from The Planets
U. SISASK
"The Spiral Final" from The Spiral Symphony
Other Events You Might Like
04/15/2020 8PM Chenery Auditorium
An Iconic Collaboration Legendary soprano Renée Fleming and piano virtuoso Evgeny Kissin collaborate for a sensational, once-in-a-lifetime recital performance. The…
04/19/2020 6PM DeVos Performance Hall
Marcelo Lehninger, conductor Ingrid Fliter, 2006 Gilmore Artist, piano Ingrid Fliter returns to Michigan to collaborate with Mr. Lehninger and…