Film | In the Key of G
Friday - December 18, 2020
7:30 PM
Friday, December 18, 2020 | 7:30 PM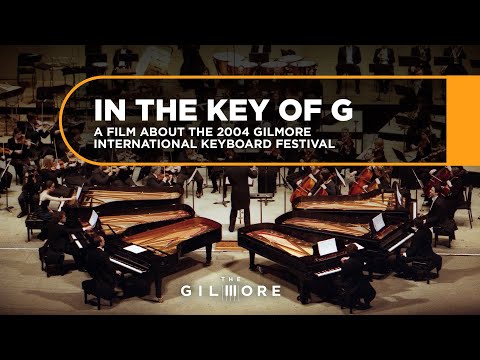 Event Categories:
calendar_today Friday, December 18, 2020, 7:30 PM
Fred Child, host of National Public Radio's Performance Today, sets the stage for the 2004 Gilmore International Keyboard Festival in the film 'In the Key of G'. Viewers get a behind-the-scenes look at the Festival – the rehearsals, back-stage nerves, shenanigans and final performances.
Follow 1991 GYA Christopher Taylor, 2000 GYA Orion Weiss, 2002 GYAs Kirill Gerstein and Jonathan Biss, and 2004 GYAs Elizabeth Schumann and Christopher Falzone as they navigate learning and performing Franz Lizst's Hexameron for Six Pianos, directed by former Kalamazoo Symphony Orchestra music director Raymond Harvey.
The film also showcases interviews with Gilmore Director Emeritus, Daniel Gustin, discussing the history of the Gilmore Keyboard Festival, the decision-making process behind choosing a Gilmore Young Artist or Gilmore Artist, and what goes into making the beloved Gilmore Keyboard Festival.
Genre
Film
Duration
1 Hour
Available
30 Days